Bounce House With Water Slide Rentals In Clermont
North Georgia's Favorite Party Inflatable Company
Book Online Now
Just-A-Jumpin' is The Destination for the Ultimate Bounce House and Water Slide Experience in Clermont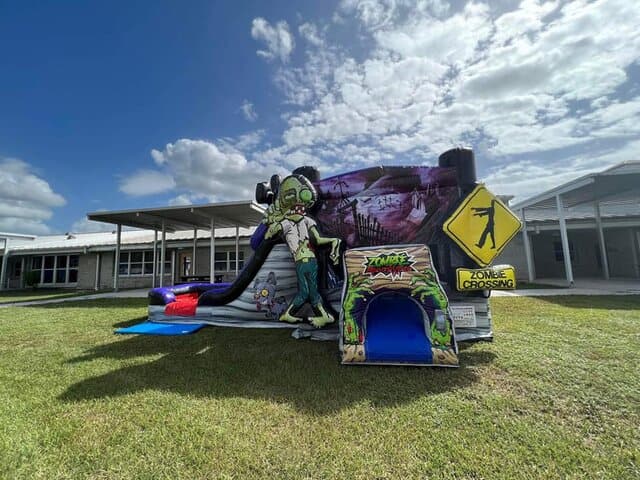 Featured Bounce House With Water Slide Rental
Apocalypse Zombie Waterslide Combo
Get ready to scream with laughter. The Apocalypse Zombie Bounce House with Water Slide from Just-A-Jumpin' is the ultimate thrill for all zombie enthusiasts in Clermont! Get ready to experience an adrenaline-pumping adventure that combines the excitement of bouncing, sliding, and escaping from the undead. All this while escaping the heat with the attached water slide. This inflatable combo is designed with attention to detail, featuring a vibrant and eye-catching graphic of a post-apocalyptic city overrun by zombies.

The Apocalypse Zombie Bounce House with Water Slide offers a spacious jumping area, allowing kids and adults alike to bounce and leap to their heart's content. But that's not all – the real excitement begins when you climb up the ladder and slide down the thrilling water slide. Feel the rush as you plunge into the refreshing pool at the bottom, escaping the clutches of the zombie horde. The water slide adds an extra element of fun and keeps you cool on hot summer days.

Safety is our top priority, which is why the Apocalypse Zombie Bounce House with Water Slide Combo is equipped with safety netting and inflated walls to prevent any accidental falls. It is perfect for backyard parties, carnivals, or any event that calls for an unforgettable experience and the Apocalypse Zombie Bounce House with Water Slide Combo will be the highlight of any gathering.

It provides endless entertainment for kids and adults while they create their own adventures. So, gear up, face the zombie apocalypse, and make memories that will last a lifetime with the Apocalypse Zombie Bounce House with Water Slide Combo. Get ready for non-stop bouncing, sliding, and zombie-fighting action!
Book Online Now
Inflatable Bounce House With Water Slide Rentals And More In Clermont!
Welcome to Just-A-Jumpin'! If you're planning a party or event and looking to add some excitement and entertainment, look no further than Just-A-Jumpin'! We offer a wide range of high-quality bounce houses with water slides that are sure to make your gathering one to remember. Give your party guests a place to bounce the day away, but also experience the fun of a water slide to beat the heat. Kids are sure to have a blast either way on these bounce and water slide combinations.

At Just-A-Jumpin', we understand the importance of providing a safe and enjoyable experience for all our customers. That's why we go above and beyond to ensure that our equipment is meticulously maintained and regularly inspected. Our team of professionals takes great care in setting up each bounce house with water slide, ensuring that it is secure, clean, and ready for hours of fun.


The Benefits of Combination Bounce Houses and Water Slides
Combination bounce houses with water slides are the perfect solution for those hot summer days when you want to beat the heat while still enjoying the thrill of bouncing on a cloud of air. These unique inflatable structures offer the best of both worlds, combining the excitement of a traditional bounce house with the refreshing fun of a water slide.
One of the main advantages of a combination bounce house and water slide rental is its versatility. With just one rental, you can provide hours of entertainment for kids and adults alike. The bounce house provides an excellent space for jumping and playing games, while the attached water slide offers an exhilarating way to cool off and have a blast on those sunny days.
A combination bounce house with water slide is also great space-savers. Instead of renting separate units, which can take up valuable party space, you can have all the fun in one compact package. Additionally, these units come with additional features such as climbing walls or splash pools, adding even more excitement to your event.
Just-A-Jumpin's Impressive Selection of Water Jumpers with Slides available in Clermont
At Just-A-Jumpin', we take pride in offering a wide range of water jumpers with slides to suit every taste and preference. Our collection includes various sizes, themes, and designs, ensuring that you find the perfect fit for your event.

From vibrant princess water jumpers to apocalypse zombie designs, our inventory has something for everyone. We understand that every party in Clermont is unique, so we strive to provide options that cater to different age groups and interests. Whether you're hosting a birthday party, a family reunion, or a corporate event, we have the ideal bounce house with water slide combination for you.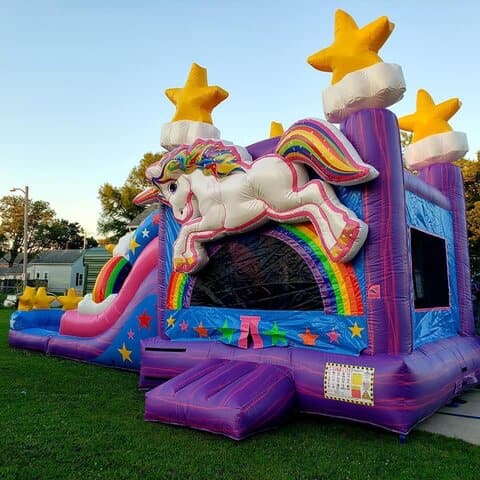 Safety First: Our Commitment to Customer Satisfaction!
Safety is our top priority at Just-A-Jumpin'. Regardless of which bounce house with water slide you rent for your party in Clermont, there is always one thing they all have in common and that is the fact that they are safe to use just like the rest of our rental items. We adhere to strict safety standards and guidelines to ensure that all our customers can enjoy their bounce house and water slide experience worry-free. Our team is trained to set up and secure each unit properly, minimizing any potential risks.

Furthermore, all our water jumpers with slides are made from durable materials that are designed to withstand rigorous use and include safety features like inflated walls and mesh netting to keep your kids safe. We regularly clean and sanitize each unit between rentals to maintain a clean and hygienic environment. We also have a team of repair professionals on staff that inspect items after every rental to ensure they are in safe condition.


Affordable Prices and Convenient Rental Process
Just-A-Jumpin' strives to make your rental experience in Clermont is as seamless as possible. We offer competitive pricing options without compromising on quality or safety. Additionally, our user-friendly website allows you to browse through our selection of bounce houses with water slides and easily book the unit that suits your needs.
Service that customers rave about
Experience exceptional customer service like never before! Our dedicated team goes above and beyond to ensure your satisfaction at every step. But don't just take our word for it; read our Google reviews to hear directly from our delighted customers. Their genuine feedback highlights the quality of our service and the care we put into every interaction. We believe in transparency and value the opinions of those we serve. So, if you're looking for an outstanding experience for your next party in Clermont and want to see why our customers rave about us, head over to our Google page and be inspired by their stories. Your satisfaction is our top priority, and we can't wait to exceed your expectations!

If you're looking for the ultimate bounce house and water slide rental experience for your next event or party, Just-A-Jumpin' has got you covered! With our impressive selection of combination bounce houses with water slides, commitment to safety, and convenient rental process, we aim to provide an unforgettable experience for all ages. Contact us today and let the fun begin!
Do You Deliver Bounce House With Water Slide Rentals In Clermont?
Are you throwing a small backyard party in Clermont for your little one's big day? Maybe a family reunion, a festival at your church, or maybe even a school? Well, you have come to the right place. Just A Jumpin Inflatables is a guaranteed hit! We have been supplying all the fun and excitement all around the Clermont, GA area for years. We specialize in party rentals for events such as but not limited to backyard parties, school festivals, birthday parties, church carnivals, high schools and businesses. We deliver the fun to your location with Inflatable Bounce House with Slides, Bounce House with Water Slides, Dry, Wet Slide, Obstacle Course, Tent Table and Chairs, Interactive Games, Concessions, Party Extra, Foam Parties
.
Our Service Area
Proud to Serve The Following Areas:
Alto

Helen

Lakemont

Tallulah Falls

Young Harris

All Areas In Between
If your party or event is beyond that radius, just let us know! We may be able to make special accommodations to suit your event.
NOTE: Fees may vary depending on how far you are outside our service area.
https://www.google.com/maps/embed?pb=!1m18!1m12!1m3!1d26311.33809193273!2d-83.79163259694703!3d34.479623128131166!2m3!1f0!2f0!3f0!3m2!1i1024!2i768!4f13.1!3m3!1m2!1s0x885f5a6384873c31%3A0xca8c4b67da38f879!2sClermont%2C%20GA%2030527!5e0!3m2!1sen!2sus!4v1649779014872!5m2!1sen!2sus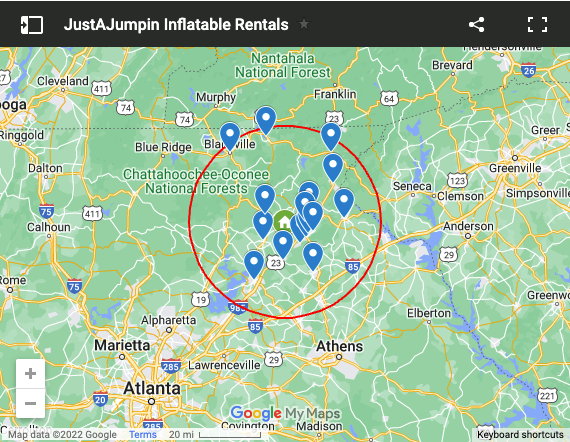 People Who Rent A Bounce House With Water Slide In Clermont Also Shop For: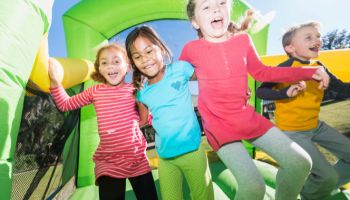 Inflatable Jumpers
You can't go wrong with any of our licensed themed inflatable jumper rentals. Regardless of your theme, we've got you covered for your party or event. We even have combo water jumpers. It's like getting two-for-one inflatable rentals!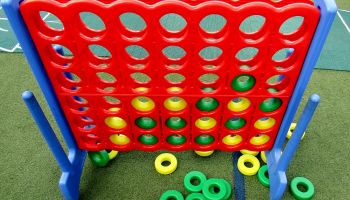 Interactive Games
Hosting a game night or need extra party entertainment? Our awesome interactive games will be just the ticket. We have everything from giant yard games to fun inflatables like soccer darts and axe throw inflatable game!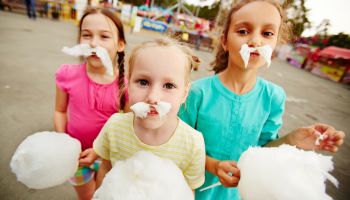 Concessions Rentals
Your party isn't complete without snacks! Just A Jumpin' has a yummy selection of concession rentals, including popcorn machines, cotton candy machines, and more. Your party guest will love these carnival snacks!
Frequently Asked Questions About Renting A Bounce House With Water Slide in Clermont
Does the price include set and delivery?
Yes, although additional fees may apply for areas farther out. Remember prices do not include sales tax.
Do you deliver to other cities?
Yes, but once again please be aware that due to rising gas prices and the possible need for an extra truck and labor that travel fees can be quite high. Please call our office for a current quote.
Does the rental time include your set up time?
No. We arrive early to set up so you get the entire rental time to play.
That depends on how many rentals we have that day. Generally we arrive 1-3 hours before the rental time begins. If we have a lot of rentals that day, we may need to set up as early as 4 hours in advance. If this is the case, we will call the Friday before to confirm that someone will be at the party location.
We've rented some really dirty jumps from other companies in the past. Are they always that dirty?
No. The jump should be clean when you get it. Just-A-Jumpin Rentals and Events cleans and disinfects after every rental.