The #1 Place for Bounce Houses with Slide Rentals in Blairsville
  Bounce House and Combos

In this catergory we offer an american family favorite known as the bounce house and also the last trend in bounce house, COMBOS. Combos are a mix of the traditional bounce house made with a slide into it for continuous fun that will last for hours!! We have a few different styles and colors to offer to ensure we have something that will be the perfect item for your event. Some of these items may even be able to be used wet, Just jump on over to the waterslides section to see which ones have that option!!!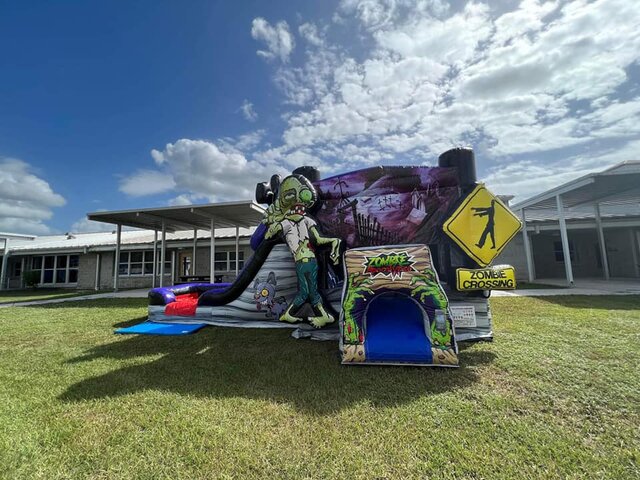 Featured Bounce Houses With Slide
It's the end of the world as we know it! Gear up and get ready to bounce on this one-of-a-kind bounce house with slide rental from Just-A-Jumpin Rentals and Events. This bounce house rental features images of the undead on the outside with a zombie crossing slide and a zombie dog! Go through the zombie door and bounce with your friends in this spooky bounce house inflatable rental!
View More
Our Bounce House With Slide Rentals
At Just-A-Jumpin Rentals and Events, many of us are parents too and understand the effort that goes into planning and hosting parties and events. We try to make it easier for you with these party extras. Our party extras have items that will make your party planning and cleanup easier and give it that finishing touch. We have table linen rentals designed to fit our table rentals which will make cleanup a breeze.
At Just A Jumpin in
Blairsville
, we offer a wide range of inflatables and it starts with your classic Bounce House. We also provide an upgraded version of this classic with a slide attached or inside of it. Combos are actually one of our most popular items being that they have more to offer and are budget-friendly. Just A Jumpin offers a range of Bounce Houses and Bounce House Combos to make your party great and to add oodles of fun to your party.
With our combo bouncers, guests at your event will be able to jump and slide at the same time! Some of our combo bouncers come fully equipped with a basketball hoop for sport-loving kids. The wide range of combos we have to offer has everything you require to make kids go crazy during your event. Check out what we have to offer and see what best fits your needs. Our combo bouncers are always a huge hit at any type of party or event and are guaranteed fun! You should also take a look at our large inflatable obstacle courses!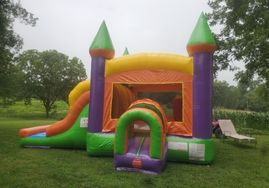 Bounce Houses For Any Event!
Just-A-Jumpin Rentals and Events is the only bounce house rental company that delivers fun at affordable prices. Choose any of our Bounce House With Slide rentals to upgrade your party to the next level and treat your guests to a carnival in your very own backyard! Try one of our favorites, the Party Time Combo Bounce House with Slide which is guaranteed to be a real treat for you and your guests!
View More
Cleveland's Favorite Bounce House With Slide Rentals
At Just-A-Jumpin Rentals and Events you can find party essentials all at the click of a button. We work with families and companies all over the Cleveland area that is looking to add some fun to backyard parties, small events, and much more. If you're looking for value, fun, a great inflatable water slide, and maybe even some concessions supplies for your party, Just-A-Jumpin Rentals and Events You're sure to love it!
Do We Offer Bounce Houses With Slides Rentals In Blairsville?
Are you throwing a small backyard party in Blairsville for your little one's big day? Maybe a family reunion, a festival at your church, or maybe even a school? Well, you have come to the right place. Just A Jumpin Inflatables is a guaranteed hit! We have been supplying all the fun and excitement all around the Blairsville, GA area for years. We specialize in party rentals for events such as but not limited to backyard parties, school festivals, birthday parties, church carnivals, high schools and businesses. We deliver the fun to your location with Inflatable Bounce House with Slides, Bounce House with Water Slides, Dry, Wet Slide, Obstacle Course, Tent Table and Chairs, Interactive Games, Concessions, Party Extra, Foam Parties
.
Our Service Area
Proud to Serve The Following Areas:
Alto

Clermont

Cleveland

Helen

Lakemont

Tallulah Falls

Young Harris

All areas in between
If your party or event is beyond that radius, just let us know! We may be able to make special accommodations to suit your event.
NOTE: Fees may vary depending on how far you are outside our service area.
https://www.google.com/maps/embed?pb=!1m18!1m12!1m3!1d13092.837618825763!2d-83.96397611573072!3d34.8760875862354!2m3!1f0!2f0!3f0!3m2!1i1024!2i768!4f13.1!3m3!1m2!1s0x885f1792c1599c09%3A0xff0477cba84f2c11!2sBlairsville%2C%20GA%2030512!5e0!3m2!1sen!2sus!4v1665577296216!5m2!1sen!2sus"
People that shopped for Bounce House With Slide Rentals Also Shopped for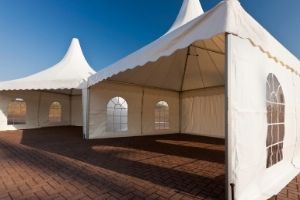 Tents, Tables, & Chairs Rentals
It is better to have and not need than to need and not have. With Just-A-Jumpin Rentals and Events, we have all the party equipment necessary to make sure your party is a hit! Tables, Tents, Chairs, and more.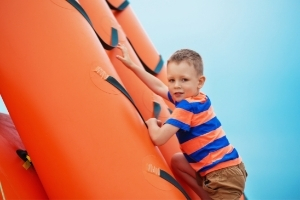 Obstacle Course
Rentals
Our obstacle courses are guaranteed fun for multiple people! Obstacle courses make great team-building activities for a company, sports team, or any group party!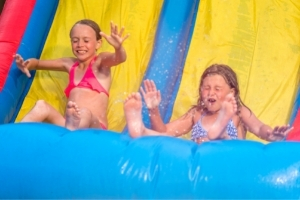 Water Slide
Rentals
Nothing feels more like summertime than water slide rentals from Just-A-Jumpin Rentals and Events. We offer water slide rentals for kids and adults of all ages. We even have themed water slides so you can rent a waterslide for just about any type of event!
Bounce House With Slide Frequently Asked Questions