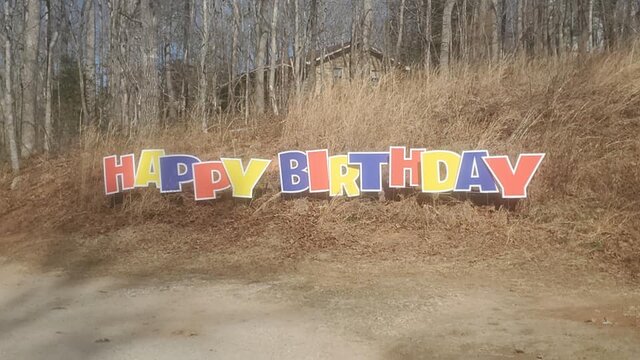 HAPPY BIRTHDAY Yard card greeting
Make someone's birthday extra special with our HAPPY BIRTHDAY Yard Card Greeting! This vibrant and eye-catching yard card display is the perfect way to surprise and delight the birthday boy or girl.
Our yard card greeting features large, colorful letters that spell out "HAPPY BIRTHDAY," along with fu It's a fantastic way to make a big statement and let everyone know that there's a birthday celebration happening.
The yard card greeting is made from durable and weather-resistant materials, ensuring that it will withstand any outdoor conditions. It's easy to set up and comes with stakes for secure placement in the yard. Whether it's a surprise for a loved one or a decoration for a birthday party, our HAPPY BIRTHDAY Yard Card Greeting is sure to bring joy and excitement to any birthday celebration.
Not only is our yard card greeting visually appealing, but it also serves as a fantastic photo backdrop. Capture memorable moments with friends and family posing in front of this cheerful display. Share the joy on social media or create lasting memories with printed photos.
Celebrate birthdays in style and make a lasting impression with our HAPPY BIRTHDAY Yard Card Greeting. Spread happiness and create a festive atmosphere with this fun and vibrant display. Order yours today and make someone's birthday a day to remember!