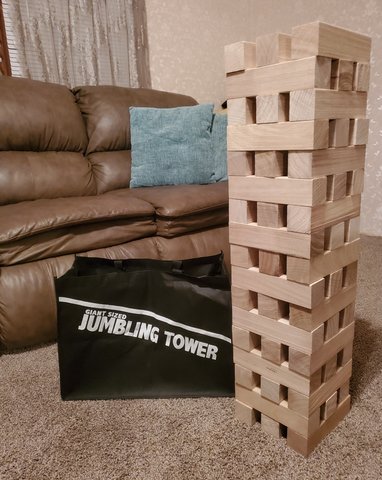 Giant Jenga
Looking to take your party to new heights? Look no further than our Giant Jenga!!! This large version of the classic game is sure to be a hit with guests of all ages.
Our Giant Jenga set is made from high-quality, sturdy wood blocks that are carefully crafted to ensure stability and durability. Whether you're hosting a backyard BBQ, a corporate team-building activity, or a wedding reception, our Giant Jenga rental is guaranteed to entertain and engage your guests.
Playing Giant Jenga is easy and exciting. Simply stack the blocks in a tower formation, three blocks per layer, and take turns removing one block at a time from any level and placing it on top. As the tower grows taller and more unstable, the suspense builds, and the challenge becomes even more thrilling. The game continues until the tower inevitably comes crashing down, resulting in laughter and cheers from the crowd.The set also comes with a convenient carrying case, making transportation and storage easy for a customer pick up option as well.
Not only is Giant Jenga a fantastic game that promotes friendly competition and strategic thinking, but it also serves as a captivating centerpiece for your party. Its visually appealing design and larger-than-life presence will undoubtedly draw attention and create a vibrant atmosphere.So, why settle for ordinary party games when you can elevate your event with our Giant Jenga rental? Contact us today to reserve your set and ensure an unforgettable experience for your guests.