Christmas Light Installation
Helen's Favorite Professional Holiday Light Installer
Get Started Today
The #1 Place for Holiday Light Installation in Helen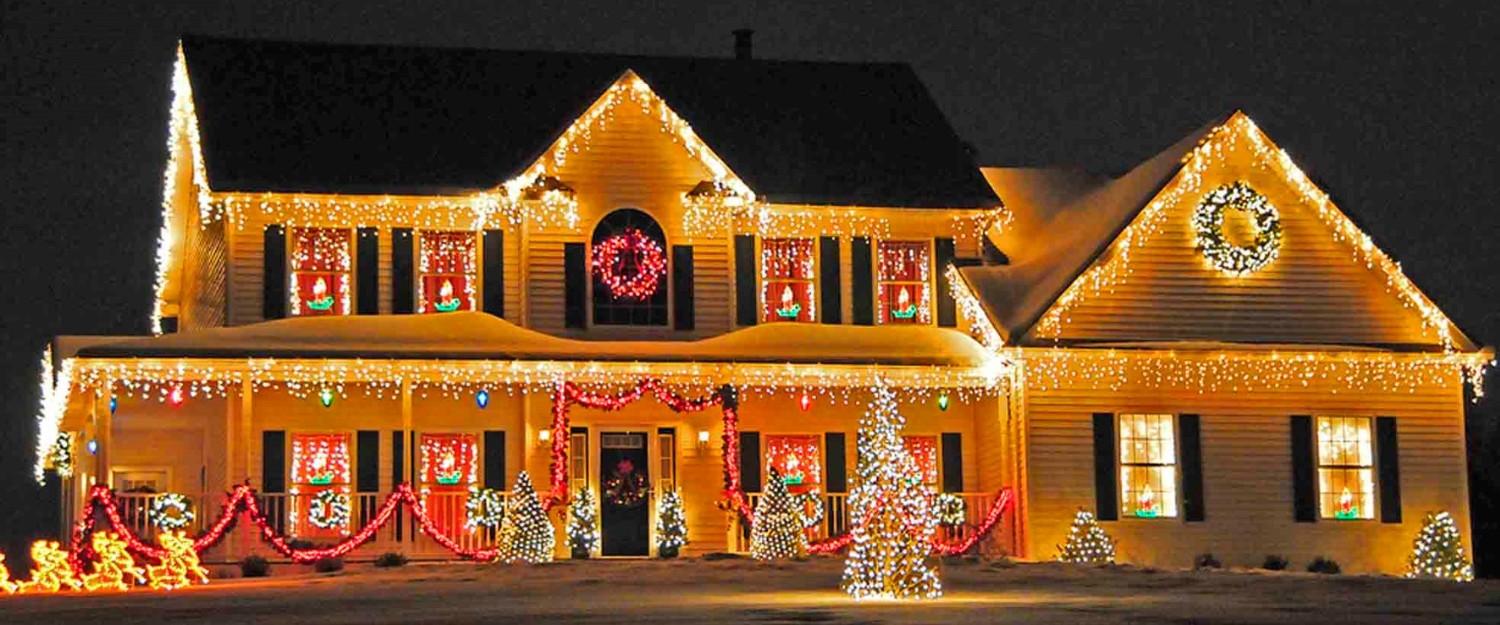 Be the Envy of the Neighborhood This Holiday Season!
Installing holiday lights can be a very tedious, dangerous, and time-consuming process. Homeowners standing on top of a 20-foot ladder trying to install holiday lights that need to be removed after a few weeks. That's where Just-A-Jumpin Rentals and Events comes in. Just-A-Jumpin Rentals and Events is available throughout
Helen
to install your Christmas or other holiday lights. At the end of the holiday season, we also come back and uninstall your lights and store them until you are ready for them next year.
Get Started Today
Our Christmas Light Installations
Installing holiday lights and decor is difficult, dangerous, and time-consuming to do alone. Whether you're cleaning and preparing the house for guests, spending long hours baking in the kitchen, or doing last-minute shopping, your holiday to-do list can really start to add up. Why spend your precious free time untangling Christmas lights and risking a fall on a ladder? Avoid the hassle and call your Just-A-Jumpin Rentals and Events! Just-A-Jumpin Rentals and Events supplies, installs, takes down, and stores your outdoor Christmas lights. We use high-quality long-lasting LED lights direct from the manufacturer for all customers, and each holiday light strand is cut to fit your home leaving no strands dangling from roof lines. Most importantly, having outdoor lights professionally installed greatly reduces the risk of homeowner accidents involving roofs and ladders.

Start a new tradition at your Helen home with Just-A-Jumpin Rentals and Events.

Just-A-Jumpin Rentals and Events is north Georgia's premier Christmas light installation service. Watch from the comfort of your home as we provide and install commercial-grade, energy-efficient LED Christmas lights that last for years and shine with stunning, uniform radiance. Our technicians get the job done beautifully, quickly, and on time. When the holidays are over, we will come back to your home, take down the lights, and store them for you until next time.

Spend more time with family and friends. Enjoy the flurry of compliments about how beautiful your home looks. Delight in this Christmas gift to yourself because you deserve it! Book now to get on our calendar before it fills up.
Helen, Georgia's Preferred Holiday Light Installers
At Just-A-Jumpin Rentals and Events you can make the holidays brighter with the look you want with our Christmas light installation all at the click of a button. We work with families and companies in Helen and all over North Georgia who are looking to add some holiday cheer to their outdoor spaces.

Many of our clients have found that they just are not able to get just the right look done with what they can find at retail stores. Trying to match the exact color of the lights so they all match can be a headache. Climbing to the top of a ladder is stressful enough, but having to then hang lights, climb down, move the ladder and then starting the stressful climb again is just too much to do. The entire process simply sucks the life out of what you are trying to accomplish. To do all that and still not get the right look ruins the holiday spirit you are trying to celebrate. Oh and don't forget, you have to repeat the process after the holidays to remove everything and then store it until next year.

Our team will work with you to find the design you are picturing and then our professional installers will then work to create that look for your home, business or community. We will set up your light display for the holidays and then we come back after the holidays to take everything down. We then will store your lights for you at our location until you are ready to have them installed next year. Talk about a Win-Win-Win! Get the holiday light installation you are pictuing without the stress and you get some storage space back in your home.

The holidays are stressful enough. Let us help take some of that stress away. We have been in the business of creating smiles for years and with our Christmas light installations, we are able to bring even more joy.
Our Service Area
Proud to Serve The Following Areas:
Alto

Baldwin

Blairsville

Clayton

Cornelia

Hiawasee

Homer

Lula

Tallulah Falls

Toccoa

Young Harris

All areas in between
If your party or event is beyond that radius, just let us know! We may be able to make special accommodations to suit your event.
NOTE: Fees may vary depending on how far you are outside our service area.
https://www.google.com/maps/embed?pb=!1m18!1m12!1m3!1d26239.53100941127!2d-83.7245365!3d34.70665854999999!2m3!1f0!2f0!3f0!3m2!1i1024!2i768!4f13.1!3m3!1m2!1s0x885f37d40b3a2aa1%3A0x8ed537fed96523a8!2sHelen%2C%20GA%2030545!5e0!3m2!1sen!2sus!4v1665765987277!5m2!1sen!2sus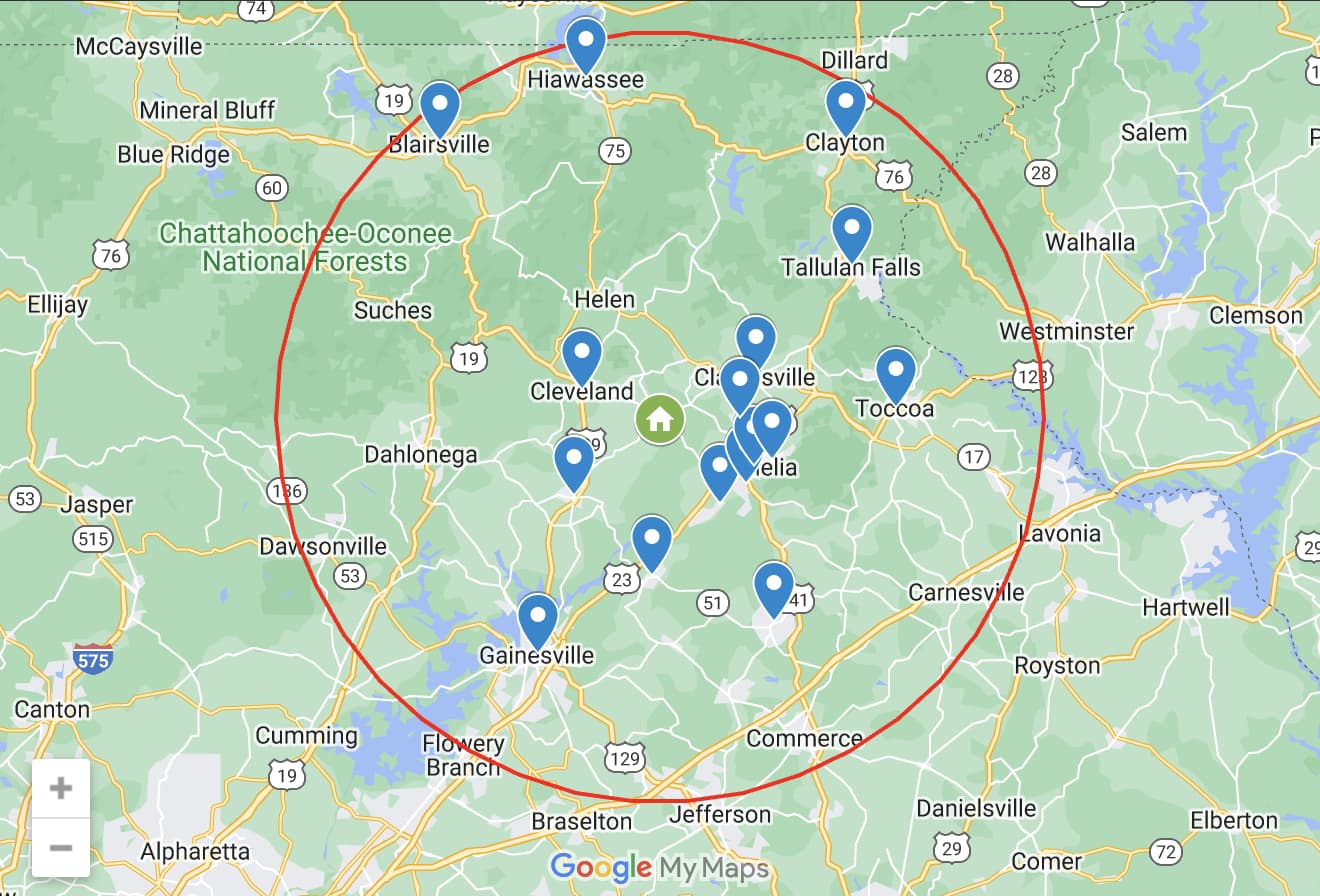 Ready to Get Started Installing Christmas Lights? Fill Out Our Form!
Christmas Light Installation Frequently Asked Questions